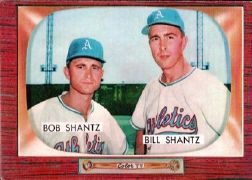 Bobby Shantz mentioned his brother
in the great reply he provided!
I'm one lucky hobbyist.
I hit two jackpots with my latest reply from pitcher Bobby Shantz. I shared my first letter from Bobby on the blog back in 2010.
I wanted to know how he felt about autographs today, nearly a half century after leaving the mound.
He replied:
"Tom,
I get around 50 or 60 autographs [request letters] weekly.
Career wise, I suppose I've received thousands."
On why he never stopped signing?
"I like to sign autographs because I'm happy they still remember me."
Bobby was more than kind pointing out that I hadn't remembered his career exactly. Too quickly, I referenced his hitting record, believing that his first HR was off Harry Byrd in 1954.
Oops!
"It was my brother Wilmer, who hit the home run off Harry Byrd, with the bases loaded, not me.
I did hit one home run off Allie Reynolds in Yankee Stadium. Allie later told me I was too damn little to him a home run. HA!
Thanks for the nice letter.
Bobby Shantz"
Thank you, Bobby. We will always remember you!
Coming Wednesday: Stay tuned Yankees fans for a book review of The Juju Rules!