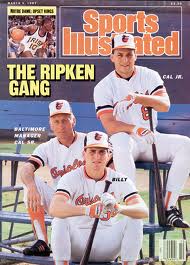 From 1987. Today's question:
will the brothers ever sign
autographs again?
My sadness turned to alarm when reading last week's headline about Cal Ripken Jr.'s mother being kidnapped at gunpoint from her home.
After fearing for Mrs. Ripken's safety, I faced another looming worry.
Will this crime give unwilling autograph signers the iron-clad excuse they've sought to shun all fan mail? Will autograph collectors be seen as a future danger, the crazed fanatics who ferret out supposedly-secret home addresses?
Be on your best by-mail behavior, collectors. The world is watching us.

Coming Wednesday: A prayer for Virgil Trucks.