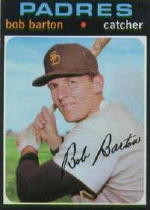 Grand Salami Time!
Bob Barton may have been one of baseball's most chatty catchers.
Judging from his awesome letter, the receptive receiver seems capable of engaging any hitter in conversation. I think pitchers would have loved facing distracted batsmen.
Barton noted that some umpires were happy to converse, too. He noted one in particular, writing:
"Had a lot of conversations with Doug Harvey. He was just elected to the Hall of Fame. Great umpire. Good guy. We became friends."
I discovered that Barton belted a 1971 grand slam. That was only the beginning to an epic story. Barton continued:
"I hit the grand slam against my old teammates, the Giants, in Candlestick Park in the top of the ninth with two outs to put us in front, 9-5, as the score was obviously tied. In the bottom of the ninth, the Giants scored five runs to beat us, 10-9 (I was with the Padres).

"We got 2 guys out in that bottom of the ninth before a dear friend of mine, Dick Dietz, hit a 3-run, 2-out double to clear the bases and drive in the 8th, 9th and 10th runs to beat us. The two hitters we got out before Dick hit the double were a couple of pretty good hitters — their names — Willie Mays and Willie McCovey!

"True Story! Enjoy!"
Barton noted his career potential:
"Nine passed balls in eight years in the M.L. with a throwing-out potential base stealers of 43%. Might be an all-time best of the two together. Proud of that.

"But I got caught behind two all-star catchers, Tom Haller in S.F. and [Johnny] Bench in Cincinnati. Frustrating not getting to play more. Made five all-star teams on my way to the M.L. in the minors."
Old catchers are sponges. They soak up all the game's details. The Bob Bartons of baseball history have so much to share. I hope someone keeps asking.
(If you hadn't guessed, www.retrosheet.org did it again. Barton's big day brought to life. Thanks, guys!)