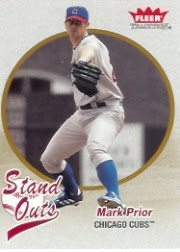 Why would you have an autographed newspaper clipping?
Because a rookie sensation clipped it out for me.
In 2002, I had attended the Iowa Cubs AAA games that launched pitcher Mark Prior to Stephen Strasburg-like potential. I watched visiting players on their dugout steps, staring and gasping like fanboys. I picked out Chicago general manager Jim Hendry in a Des Moines skybox nodding again and again for each strike, grinning like he just hit the lottery.
I wrote all this to Prior the week Chicago promoted him. I told him how meaningful it was to be part of his ascent to the majors. Plus, I mentioned that I thought I'd never afford the autographs offered in the team gift shop. However, I was enclosing a 9-by-12 SASE. Please, would he have a couple of photos to send to me and my brother?
Enclosed were two carefully-clipped color photos, one from the Tribune, one from the Sun-Times. Both showed that famous pinched Prior signature.
The moral? Forget the form letter. Lose the canned paragraphs. Dream big. Be personal every time. There's no better way to beat those major league odds.