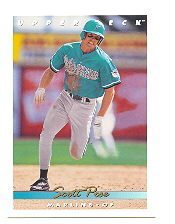 He looks like an
all-star in this
action pose!
I read about journeyman outfielder Scott Pose in the Sunday newspaper.
What jumped out at me was an answer to people asking about his role in baseball's past.
He said, in part:
"On occasion they will. I keep it pretty low-profile. I rarely bring it up."
Although www.sportscollectors.net noted that he had signed 14 of 19 TTM requests, Pose has gone through long dry spells, taking months to respond.
Like Terry Mathews, discussed in yesterday's post, Pose may have more pride in his current work (baseball analyst for Big Ten Network and Durham Bulls).
I'm guessing Pose might be skeptical of a letter raving about his 1990s playing time. Mention his current contributions, even writing to him c/o Durham Bulls, might hike your chances for a reply.
I'll be trying him soon.
Of course, it pays to read every note in a bio. Pose is a Hall of Famer. He belongs to the Iowa High School Baseball Coaches Association HOF. Let's hope my Iowa postmark gets his attention.
Coming Thursday: Tom's newest '10 Most Wanted' list.