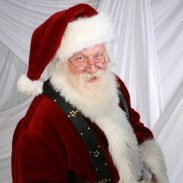 I've met this Santa. I believe!
(Thanks, Ken Vergauwen)
I think there's been a new law passed that Christmas starts as soon as the last trick-or-treater leaves the front step. I'll never dismiss a jolly thought, no matter the date.
As I assemble my wish list, a "must have" is Harvey Meiselman's 2011 Baseball Address List. He's started taking orders on the new edition, which will ship no later than Jan. 4.
Quoting from his announcement:
"NEW FOR 2011
1) the 2011 edition will have over 3,000 address updates and almost 500 new addresses from the previous edition.
2) There will be a column added to the main address section (right next to the column that denotes signing fees) and it will let you know of players who have less than a 25% success rates through the mail on various collectors forums. This will allow you to judge whether you want to send out an expensive rookie card or baseball to someone who has a 10% success rate and possibly lose that card.
1) The deceased players information will be in a separate section. Players mailing addresses will also be in their own separate section. That way, if you're only interested in the addresses that can yield successful autograph requests you have them all together in one section. If you need the death information, it's indexed and printed in alphabetical order in a separate section. The best of both worlds.

2) Ex-MLB players who work as managers and coaches for major or minor league baseball teams during the season are now included in the regular address section. This way, lets say a player you want to write to, lives in CA but is a coach for a team in PA during the season. You'll instantly know what the best address at the time is to use.
3) Broadcasters, writers, General Managers, Owners and Ford C Frick Award winners and JG Taylor Spink Award winners have been expanded for 2011."
Why order early? Besides bragging rights about being first on your block with Harvey's list, know that the nearly 500 new addresses are jackpots awaiting collectors. I'm guessing that a few of these folks may sign freely for a few months, all due to the novelty of receiving fan mail again. Then, they might start charging for signatures. Or, the signing power might be disconnected entirely.
Check out http://www.sportsaddresslists.com/ for more information. This is NOT an affiliate link. I get nothing but peace of mind, knowing fellow collectors are using the best resource imaginable. The $35 is a wise hobby investment, knowing you'll benefit your collection while supporting Harvey's pioneering work.