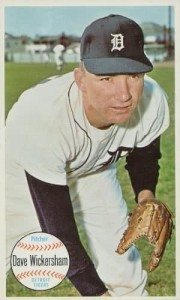 From the 1964 Topps Giant set,
foreshadowing "Wick's" giant year!
Pitcher Dave Wickersham amazed me. Here was my question:
"In the book THE BALLPLAYERS, it reads in part about you: "…going 19-12 and missing a 20-win season only because of his first ejection from a ballgame." What's missing from the story?
Instead of a simple, "I was robbed," Wickersham recounted the entire shocking episode. How can history slip through your fingers? Relive the fateful day in the hurler's own words:
"The score was 1-1 in the seventh in Yankee Stadium. Men on first and third with two outs. Phil Linz bunted a ball towards first base. Norm Cash could stand on first base and field the ball. The ball was going so slow that Linz could almost outrun it.
The ball was rolling and took a teeny hop. It hit Cash's glove and dropped to the ground. He immediately picked it up as he stood on the base.
The umpire Bill Valentine called Linz safe (the runner on third scored, the runner on first went to second base.) I thought Linz was safe. Cash started jumping up and down (he had the ball). Valentine started walking away down the right field foul line, Cash right beside him hollering at him (still holding the ball). The runner on second started for third.
I hollered, "Time out!" Nothing happened to my request. Valentine and Cash were getting further down the right field line. The runner on second base kept going towards third base. I hollered, "Time Out" again louder! Still nothing.
So I start running down the field toward Cash and Valentine. I come up to Valentine from behind and tap him on his left shoulder and said, 'Time Out, Bill!' He turned to me and said, 'You're out of here.'
I was shocked. I started walking towards our third base dugout. When I crossed an imaginary line behind the pitcher's mound and home plate, John Stevens the home plate umpire said to me, 'Where are you going?'
I told him through tears (I had never been kicked out of anything before in my life), 'He kicked me out.'
Then I headed to the dugout and up to the locker room. When a player is kicked out, he is fined automatically ($50 minimum back then). And I never got notification of a fine. We won the game, 4-2, in nine innings. That supposed out at first base would have put the game into the top of the 8th.
Lots more happened after that and Valentine has since admitted that I should not have been thrown out. I also told him I thought his safe call was the correct call."
Be sure to check out the fantastic batter-by-batter account offered by http://www.retrosheet.org/.