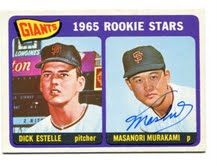 David Patton'sprize!
Hobby tales always fascinate me. The best ones have morals. Here are three lessons I learned from the following story:
1. The power of the Internet.
2. The power of focus.
3. The power of ASKING.
I've always agreed with Albert Einstein, who felt that genius came not in knowing all the answers, but in knowing where and how to look for those answers.
I loved how hobbyist David Patton got a surprise Christmas bonus from Tony Oliva. Tony O appreciated David's sincerity, and gave him a no-charge autograph with a greeting.
When David told me about his one big autograph project, I had a suggestion. He needed Masanori Murakami, the first Japanese player to pitch in the majors. But how? Japanese postage? What language should a letter be in? Are there other customs the retired star would appreciate?
I suggested he seek the advice of Japan's Kohei Nirengi, a talented collector who excels in TTM autographs. Kohei is a bilingual fan with a thorough knowledge of American and Japanese baseball.
David adds:
"I want to thank you for introducing me to Kohei. He is truly a great supporter of the hobby. He was so accommodating to me and offered a few ideas which probably improved my chances of success. I hope to meet him some day.
I collected cards as a kid but didn't do any autographing. After my retirement in 2007, I decided to finish off a raw 65 set from my childhood. That took about a year and then I didn't know what to do next. I was looking for a challenge which wouldn't break the bank. Then I found out about www.sportscollectors.net from a post on the CU message boards and soon I was hooked.
I decided to sacrifice the 65 set for autographs and sent out my first card on 4/17/09. I was fortunate to select a set with so many great TTM signers. So far I have 489 different autos with 349 of those coming through the mail. That's71 percent! I'm now down to about 12 or so living players who are all toughies. I know that I'll never complete the set, but I hope to get as many as reasonably possible and hope to break 500 this summer.
My quest for Murakami began at the National two years ago. I was at a booth which sold Japanese cards and asked if they had any information about him. Luckily there was another customer there who had been to Japan and met Murakami. He said that he had a 65 Giants team card signed by Murakami which he would sell to me. After months of searching he was never able to locate the card, but the experience did give me the idea of finding a connection in Japan to help. I sent my letter to Murakami through Kohei and he included an interpreted letter along with mine. I also included a rookie card for both Kohei and Murakami as well as an SSPC card for Murakami.
Currently I'm working on some 1950 Bowman cards. There are a surprising number of players who are great TTM signers still living. Their cards can be found on Ebay for about $5 with a little patience. I am exploring some ideas to persuade some of the remaining players from the 65 set to sign. Just this week I got a signed card back from Pedro Gonzalez (only the third reported on SCN). That success was a little lucky and one I never expected. That is what keeps us going."
Coming Friday: Kohei A bonus letter reply? Nirengi tells more of the stunning Murakami success!