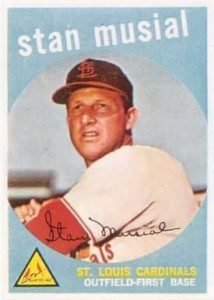 Amazing, how he endured 1959's
disappointments. Anyone ever see
an "S" like that on a Stan autograph?
I'm still thinking about Stan Musial.
He was one of the first legendary autographs I ever landed by mail in the early 1970s. He was signing everything. My brother sent him the Tank McNamara comic strip salute. Cards or newspaper clippings? If you sent the SASE, he came through.
All the tributes savor Musial's career highlights. I think he was at his best when things weren't so great.
How many aging stars of today would wave the white flag after a year-long decline like 1959? Retire and save face.
Not "The Man." He worked harder than ever.
I'm going to twice-weekly posts starting this week. I'm in a hobby slump. I'm working to pump up my TTM reply rate. Additionally, I have a long-overdue site redesign that I'd love launched when the season starts.
Meanwhile, I'm focusing on quality insights every Tuesday and Thursday. Instead of three "token" posts a week, I'll give you my best writing twice a week.
My spring training is starting NOW. Please, stop by Tuesdays and Thursdays to cheer on my collecting comeback.
Readers: what have you done to battle TTM slumps?