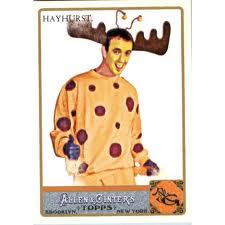 Was it his books, or
this 2011 A&G making
Dirk a must-have for
collectors? Don't expect
to see many of these
signed in the near future!

Former pitcher Dirk Hayhurst has thrown a brushback.

As first reported on www.sportscollectors.net, the author of two baseball memoirs isn't happy about his acclaim as a TTM autograph signer. Fed up with mail to his home address, he announced to Twitterdom that he's trashing all future requests from fans and collectors sent to his house.

I hate to think of any current or former player going to war with our hobby. I wrote to volunteer as a peacekeeper. Here's his reply:
The address you've found in the white pages in not my address. It's my parents. The address that was posted online in a card-centric chat room IS my address. My address was unlisted, at least I thought it was…
I did write all that stuff you've mentioned below. Yes, I realize that a little digging can yield anyone's address, but the fact of the matter is, I'm not giving it out and I don't condone other's giving it away with instructions to send me whatever because I'll sign it and return it. As I've said, I'm not against autographs or collectors. I don't even care about dealers or hunters or sellers. I just don't want things showing up at my address via an address I did not in good conscience provide to the sender. Furthermore, I vend signed books separately, as well as
Garfoose'd
items—90% of the time for charities and relief causes. I'm looking into other options for card seekers and what not, but, and pardon me for being crass, it's not at the top of my priority list at the moment.
If people want to reach me, my contact information is on my website. That is the means I've made available. I will not accommodate requests sent to my now fully public address at this time.
I appreciate your concern in this matter, but I feel I should have the right to handle this the way I see fit for the moment.
Thank you for your time, best wishes.
What lesson did I take from all this? Even seemingly-positive remarks can be misinterpreted by someone worried about being taken for granted. Post something about another person online, and chances are great that the aforementioned will read it, too.
Coming Monday: An update from pitcher Larry Gura!