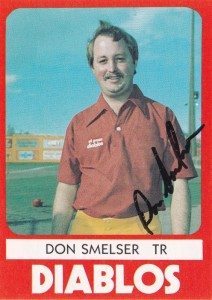 Kyle Smego's hobby legwork
yielded a return letter filled with
impressive baseball memories.
Don't "he never" yourself out of a great collection.
For instance:
He never starred anywhere.
He never played in the majors.
He never played ANYWHERE.
Never say never. Behind that little-known name might be some classic baseball tales.
Kyle Smego, the driving force behind the "Autograph Addict" website, found that out when he acquired some vintage minor league cards. Being a true collector, he contacted EVERYONE in the set.
One of the classiest responses came from a 1980 El Paso Diablos team trainer.
Don Smelser was in the right place at the right time. He saw Tom Brunansky flirt with an epic five homers in one game. Smelser watched "The Famous Chicken" make his minor league debut, being a part of some now-classic routines. For days off, Smelser found a Hall of Famer for a golf buddy, pitcher-turned-coach Warren Spahn.
Kyle reaped this history bonanza through kindness. He began his letter offering to snare an extra card for Smelser, if the former trainer didn't have one. A good lesson for us all: think about what you're giving, not just what you hope to be getting.
Well done, Kyle!
Coming Wednesday: Remember the short-lived Senior League? One collector is getting tough autographs for a "song."