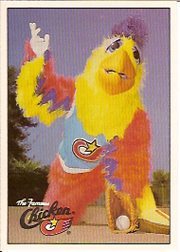 Some collectors feel
anyone on a baseball
card is worthy
autograph!
Who belongs in your autograph collection?
One early rule all collectors need is:
Collect what you like and WHO you like.
However, as signing habits change for current and former baseball players, keep this in mind:
Many groups are part of baseball history. Former owners. Broadcasters. Scouts. General managers like Pat Gillick. Even mascots.
I've spent time with Ted Giannoulas twice. He impresses me as a student of baseball history. I hope he writes a book about his career. He was thrilled to sign his full name on my Kellogg's Corn Flakes box.
On http://www.sportscollectors.net/, I spotted some enterprising collector who sought out Dr. Frank Jobe (the pioneer of "Tommy John surgery" who has saved so many pitching careers) by mail for an autograph.
Every fan is different. The same should be true for each collection. However, I'm not going to wait for Cooperstown to tell me who's a worthy signature.
Coming Monday: A letter from Yankee Hector Lopez, the pride of Panama!