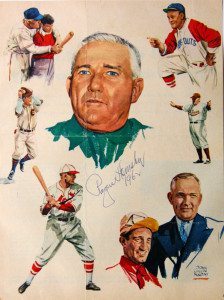 I spotted this autographed magazine
page on ebay, offered for $1,234.05.
Would "Rajah" sign more in the
off-season? Hmmm….
"People ask me what I do in winter when there's no baseball. I'll tell you what I do. I stare out the window and wait for spring."
— Rogers Hornsby
The more I read about "The Rajah," the more he sounds like Billy Martin supersized. Nope, Hornsby would not have been "Miss Congeniality" on most teams. Sample the awesome collection of quotes from the Baseball Almanac website for a great taste (or distaste) of the man.
Many of you have gotten Al Worthington's autograph. When this Christian pitcher protested teammates stealing signs, Hornsby was the first to go to challenge Worthington's manhood in print.
I think many collectors may feel like Hornsby, the first week after the World Series ends.
Hornsby wasn't the easiest autograph to get. However, I'm thinking he may have signed more in the off-season? After all, baseball fans can make any season baseball season (on paper, at least).
Questions I'll be asking retirees in coming letters:
1. Did you play winter ball? Players with minimal MLB stats often sparkled on foreign diamonds. Who did they play with, and against? What was life like living outside the USA?
2. If you didn't play winter ball, where did you work in the off-season? Imagine Joe Garagiola and Yogi Berra working together in Sears in St. Louis. Sound like a TV sitcom, or reality show? It happened! Imagine considering your status as a major leaguer a "part-time job," needing a winter paycheck to provide for your family. Imagine being waited on by a St. Louis Cardinal or New York Yankee!
Make your by-mail plans now. This is the season for signers.
Coming Tuesday: How Red Sox pitcher Boo Ferriss gives back to baseball — and collectors.