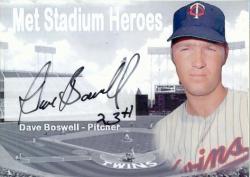 Check out the awesome custom cards shared by
Jim the "auto guy" at www.twinscards.com. Who
wouldn't autograph such a beauty?
I was blessed to get a surprising reply from underrated Twins hurler Dave Boswell in 2011. He died June 11 at age 67.
I hoped to find a tribute to him that didn't dwell on the fight with manager Billy Martin. Here's the best one I spotted, complete with great memories from roommate Frank Quilici.
A tip? Ask about roommates in future letters to retirees. They're a fading part of major league lore.
And be grateful for any autographs you received from Boswell in the last two years. He battled illness, but did his best with fan mail. He didn't forget us. We won't forget him.
Coming Wednesday: Ripped from the headlines…an Atlanta Braves autograph faker!