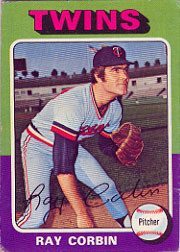 Same autograph,
decades later!
How about baseball writers sending a little love Ray Corbin's way? Sure, it happened nearly 40 years ago. Better late than never.
Out come the adjectives for any 2011 complete-game pitcher. Two straight CG's? Are you serious?!?
In 1972, Corbin did more than earn three straight complete games. He compiled a 27.1 scoreless innings streak.
Did the media thrill over every pitch? I could almost hear the sigh come from Corbin as he wrote…
"Very little response since in those days shutouts and complete games were much more common than today. Not uncommon for the leader in shutouts to be in double figures."
Again, Corbin reeled off another career high in 1975, striking out nine White Sox. He noted:
"I wasn't a big strikeout pitcher and was unaware that career high in K's came in my final season. With Nolan Ryan setting K records, I'm sure mine were unnoticed.
Don't confuse Corbin's humility with a lack of confidence. Check out what 1971 spring training was like:
"I had a great spring and knew I had a chance to make the team after (Dave) Boswell and (Luis) Tiant were released."
Coming Wednesday: Former outfielder Glenn Wilson returns…with a book!