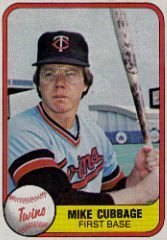 Mike Cubbage did his best to keep Jim Palmer out of Cooperstown.
Facing the future Hall of Famer, Cubbage teed off on Palmer for a .394 average. He collected 13 hits, according to the ever-trusty http://www.retrosheet.org/.
Cubbage remembered in a fine letter:
"I saw Palmer well. Strange, because he was more of a high fastball pitcher and I was a low fastball hitter. Anyway, also saw his curveball and change-up well.
Thanks for asking,
Mike Cubbage"
Some fans remember Cubbage from his two-sport playing days at the University of Virginia. Nice photo of young "Cubbie!"