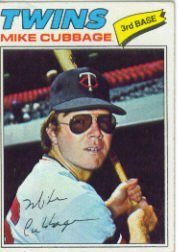 Same Signature!
Am I the only fan on earth who thought it would've been great to have Mike Cubbage play for the Cubs? After all,. his name wasn't Mike TWINage! Broadcasters would have feasted on that wordplay.
No, I didn't ask the infielder that. Instead, I quizzed him on what might have been his finest moment at bat: April 27, 1978, devouring Toronto pitching before an appreciative Metropolitan Stadium gathering of 18,258. Four hits. One of everything. Cubbage hit for the cycle. (Thanks to http://www.retrosheet.org/ for preserving the moment.)
His recollections:
"The cycle had some luck. A double in first at-bat versus Jim Clancy of Toronto an d was thrown out at third base, trying to stretch it!! Homer in second at-bat and the last two hits versus Jerry Garvin (??) Infield single off his leg and the triple in the last at-bat, on a ball hit off the center field wall at the Met!!"
The humble hitter chose to ignore his four RBI, accounting for a 6-3 win.
Tomorrow: Cubbage recalls his mastery of Hall of Famer Jim Palmer.