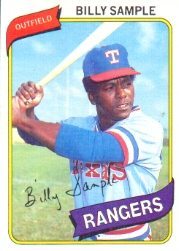 I admired the outfielder's hustle during his too-short career. Hearing him broadcast was just as genuine. I felt he wasn't showboating as a baseball scholar, but described game action like he was talking to a friend in the stands or a teammate on the bench. Even by mail, he didn't disappoint.
I asked him about how he honed his speed, culminating in a career-best 44 steals with the 1983 Rangers. Sample wrote:
"The late George Case, who was a great base stealer in the 1940s, was a big help in the initial explosion towards the next base."

Looking at his minor league stats, I believe Sample blossomed at bat after switching from second base to the outfield. He added:
"I signed as a second baseman, but thankfully was switched back to the outfield where I played most of my collegiate career."

Although Sample logged just one year with the Yankees, the future broadcaster got a great introduction to the New York media circus. How was it?
"The great number of media in N.Y. seemed to make every little comment seem bigger as they were searching for something different from the next. Plus, they assign blame as easy as breathing."

Best of all, I knew Sample had studied my letter. When I remarked in closing that my baseball "career" ended in Little League, Sample closed with a smile.
"Your Little League career was probably better than mine."