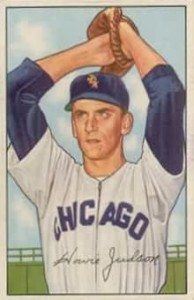 "A courageous man, Judson pitched his final seasons knowing he might be going blind from a retina infection."


— The Ballplayers
Imagine thinking that every game might be your last. Consider that the other team knows you may be distracted, far from your best physical or emotional self.
Howie Judson pitched with such a burden. The famed reference book noted that he was a "highly respected hurler," even though he never had a winning season. Others might say that his will to compete gave him a winning career, no matter what the stats claim.
"I kept it quiet for a number of years, but finally it got out, so it got in the papers."
Although his debut came more than 60 years ago, Judson recalled the anticipation of that first game with the 1948 White Sox:
"I was told about five days early. I could hardly wait for the time to pass."
How did it go? Let the stunning http://www.retrosheet.org/ share Judson's premiere game details!
Judson saluted one batterymate during his career:
"The best catcher I ever pitched to was Hobie Landrith with the Reds. He was very shifty behind the plate and had a good arm."
Tomorrow: a fresh look at Yogi Berra, from Yankee roommate Bobby Brown!