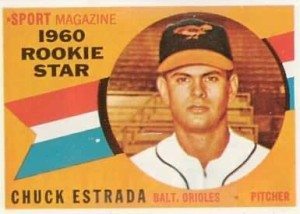 A 12-year-old collector got a smile and an
autograph from this face!
 In February, I wrote about then-PCL pitching coach Chuck Estrada brushing off collectors, challenging them to explain why they wanted HIS autograph.
I was thrilled to hear from Theo Gideon in Tacoma, Washington. His experience asking for an autograph produced a much different, happier result. Theo wrote:
"Around the same time that you encountered Chuck Estrada, I attended the Tacoma Tigers Baseball Camp For Kids. Chuck was a part of the camp staff. My father had in his possession for many years a (Spalding?) Chuck Estrada [endorsed signature model] baseball glove. Upon hearing of Chuck's involvement in the camp, my father asked if I would take the glove to the camp the next day and have Chuck sign it.

As a 12 or so year-old kid, I was embarrassed of my father's request. Grudgingly I pulled the glove out of my bat bag. I explained to Mr. Estrada that my crazy dad had his glove for many years and had even restrung it, and asked if he would sign the glove.

I was amazed to see the Chuck Estrada's face lit up like a Christmas tree. He walked around with the glove showing it off to all of the young Tiger's players and staff members. I believe he said to a group, "You see, there was a time when I was a big deal. Look, I even had my own glove…" He was smiling from ear to ear and carrying that glove around.

Many of the Tacoma players laughed and joked with him about the glove. I wasn't quite sure if he was going to give it back. But he did, and signed it multiple times. I will never forget how happy he seemed, knowing that someone still had his glove. I guess I gave him a good 'why' in my pursuit of his autograph.

My father still has that glove today."
You are an all-star among collectors, Theo. Thanks for sharing!
Coming Tuesday: Golden (anniversary) memories from Sal Durante, the fan who caught the immortal 1961 homer hit by Roger Maris.