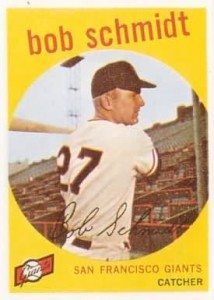 Years of service, to baseball
and the hobby. Thank you!
Thanks to Reds collector Ron Martin for sharing the news, via www.sportscollectors.net.
Former catcher Bob Schmidt, part of Cincinnati's 1961 team, suffered a stroke and is unable to sign autographs.
Schmidt's greatest statistic?
According to SCN, he signed 97 of 99 TTM requests.
Before everyone crosses him off their baseball address lists, I have one question:
When a retiree has to stop signing because of health matters, do any of you (who own his autograph) ever send a thank-you note? I'd think a note saying, "I kept your autograph all these years" would be quite meaningful.
Just a thought.