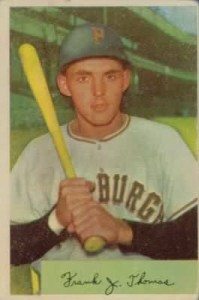 "The Original One" is a
unique subset in Bill's collection!

Bill Kearns is a great online ally. He provides early-breaking news on deaths for the Baseball Player Passings site on Facebook. He's mentioned which deceased players signed for him. I wanted to know more about his unique hobby background. I'm grateful he's provided this e-interview.
Q: Do you remember who (and when) your first TTM autograph came?
A: Yes it was George Bamberger. He has since died, so he gets added to that list.
We started this hobby about 11 years ago and we had about 50 baseball cards to our name. That card of Mr. Bamberger was given to us by a friend (along with about 70,000 others) and we have still beeen feeding from that large collection ever sense. But it recent years we have graduated to making photos (those that you see in BP are actually a 4×6 photo, made to make like a baseball card.)
Q: Tell me about the Maine players collection, please!
Great set…Maine certainly is not a hotbed for baseball stars but we seek them out. There are 19 living ML'ers from Maine and we have them all. The saddest is of Dan Walters, as we learned, became a San Diego police detective and was shot an paralyzed while off duty, told to us by his mother who gave us a signed card. Tought way to learn of such a tragedy.
We have many minor leaguers too. They are harder to find but keep searching

Q: What's a typical letter like for you? Typed or handwritten? What do you ask to get signed? Ever ask specific questions?
A: We do so many its a standard letter, with areas to change player info, both signed by us. Son Jon will write occasional on the "real important ones" and used to write many as part of his "homework" as a youngster.

Q: What kind of notes or letters have you gotten back?
A: We get lots of notes and letters back. We keep all of them. It kinda authenticates them. We have a pen pal Frank "The Original One" Thomas and we must have 300 multi page letters from him

Q: I saw the breaking news about Pascual Perez. Some collectors might ask, why pay attention to obituaries? It's too late for an autograph!
A: Yes, put its good to know and often will brink back memories and perhaps that is baseball's best quality. LIke when I read that Bob "Hawk" Taylor died this past June, I had to go for a long walk. He was my 1st baseball hero, I was about 6-7…and yah, it hurt.

Q: What advice do you have for setting hobby goals or collection types?
A: I tell all younger collectors that I know and have known, have fun, go with players that inspire you but try to do the hobby in "set" or "subsets". For example, if you like the Red Sox, have a set of Red Sox that you can continue to work on. Like the Maine born players, players born your birthday, players that share your name, school or even subsets of players that achived a rare event…like home run 1st at bat, or even better, player 1st pitch home run…it brings in the reserch realm.

Q: How are you keeping up on addresses and other autograph news?
Many sources, addy books, on line ask friends ask players

Q: Guys who scribble their "names." Guys who charge, or never respond. Lots of people have lists of what's wrong with this hobby. What's RIGHT about this hobby right now?
A: It is fun and challenging. We do alot of the older players because, they are better signers. And it brings the history factor. We go to alot of Portland SeaDogs games and hound the RedSox prospects and the in-coming teams. This past summer we got about 1,000 autographs of the SD's (overkill) not at all because we "gift" many of them to friends in the hobby instead of trading.

Q: What's your hobby game plan for 2013?
A: Love the old guys love the Sea Dogs…adding more autographs to sons and friends "baseball scrapbooks". Imagine a scrapbook of autographs chalk full of players that share your name, birthday, Maine born and much more….

Coming Monday: News from Virgil Trucks