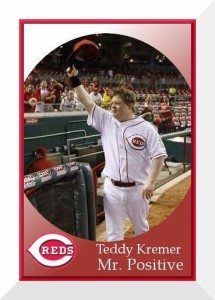 A work of art
by Bill Kearns!
Time for one more thank-you note.
No Christmas presents have been opened yet. The present I got came seeing guest batboy Ted Kremer talk about his team.
This guy is contagious!
On a baseball postcard sent in care of the Reds (employing him part-time in the front office), I said:
"Thank you for reminding me why I love baseball. Merry Christmas!
Tom Owens"
Who doesn't know this inspirational story? Start with this
Facebook page
, to see why Reds fans adore Ted.
The team should have advertised Ted as a part of Redsfest. I'd send him on the winter caravan, too.
Also, I know that collector Bill Kearns has posted successful autograph responses by mail from Ted. Bill crafted some epic custom cards for the letter, long before Topps wised up and made Mister T a part of its "Traded" set.
Baseball needs more Ted Kremers. Let's hope the Reds will share his enthusiasm with all fans and collectors in 2014.