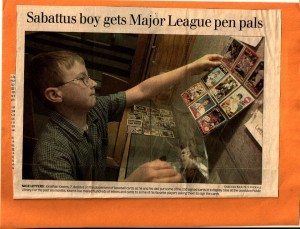 It's time to have fun again.

Happy New Year!
What do I want to accomplish as a fan and letter writer in 2013?
I'm grateful to Bill Kearns, who shared a scrapbook page on his Facebook site. A "while ago," he began collecting autographs with his son.
My resolution?
I want to be that seven-year-old. I want that face. I want to look at my hobby with those eyes again.
Thank you, Bill and Jonathan.
Coming Friday: One resolution you can do for other collectors.