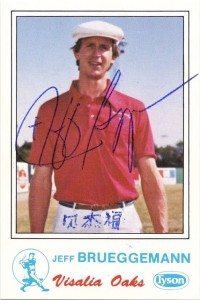 Jeff Signed in English
AND Chinese!
 There's an offer that can't be missed.
If you haven't ordered Harvey Meiselman's unbeatable 2011 Baseball Address List, he's sweetening the deal. Buy the baseball list, and he throws in FREE his minor league baseball list. This is an $18 value as a bonus!
Minor leaguers have major memories. They don't get the same ton of fan mail guys in Topps sets do. Therefore, they have more time to give all-star responses.
Back in January, I featured Dan Cote's "Signed DC" blog series detailing how he's collecting the 1983 Visalia Oaks set signed — getting autographs from minor league teammates of Kirby Puckett. Dan would ask for the card to be autographed, then include a question about playing with a future Hall of Famer. Virtually every response included a lengthy tale of that magical season.
Dan just heard from that team's general manager, receiving a lengthy letter telling about the team and the great set Dan's collecting. No one else besides this former general manager would know the minor league set's history! To learn why the card is autographed in English AND Chinese, be sure to check out Dan's latest blog update.
Meanwhile, Harvey Meiselman is offering the perfect, affordable entry into minor league autograph collecting. Try his list. You'll be gratified by the heart-felt responses that fill your mailbox.
Coming Monday: Insight from Sam Mele, skipper of the 1965 A.L. Champion Minnesota Twins.