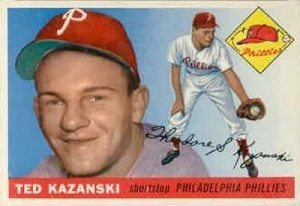 A half-century later, Ted's autograph is the same!
Topps recycled his photo from 1954, right?
Infielder Ted Kazanski wasn't the angry young man stereotype so common in pro sports today.
The Ballplayers bio notes that he was "one of the most highly rated schoolboy players of his time." Kazanski reached the majors while toiling under the "bonus baby" banner.
Surprisingly, he had nothing bad to say about the press coverage he received.
"The press, for the most part, always treated me fairly, I thought. In some cases, they wrote about me in more complimentary ways than I thought was deserved at the time, probably because of their recognition of my youth and inexperience at the time."
When 20-year-old Ken Griffey Jr. hit an inside-the-park homer, baseball historians looked to 1956. The National League had its own "Kid," too.

"My inside-the-park homer came against the Giants in the Polo Grounds. What made it kind of exciting for me was that it was a grand slam and we won the game."
Thanks to http://www.retrosheet.org/, the day remains!
Any doubts about Kazanski's experiences as a major leaguer were erased with his closing:
"Tom, Thanks for being a fan of baseball. It's a great game!

Sincerely,
Ted Kazanski"