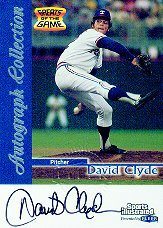 Just 27 days short of
a pension? Amazing
that Clyde still signs
for fans!
Author Doug Gladstone sees the beginning of real change, real hope.
Gladstone's book A Bitter Cup of Coffee detailed the plight of the gap players, those pension-less men with less than four years of Major League service through 1979.
On Thursday, MLB and the Players Association took a first step to restoring those rights. Lump sum payments will be made in the next two years, up to $10,000 yearly (depending on quarters of service).
Pay special attention to Gladstone's words to the Associated Press:
In 2010, Gladstone shared with this blog tips on contacting the decision makers who could give these slighted players a real pension, real insurance — real recognition. He urged fans to e-mail those power brokers.
I e-mailed the author congratulations for writing a book that helped empower these scorned players. I asked if:
1. Did the e-mails make a difference in the recent concession to unvested players?
2. Could future e-mails help provide full benefits to these men in future negotiations?
Gladstone replied:
"Absolutely a "yes" to both of your questions….if you can continue urging them to keep up the pressure on both the league and the union, that would be wonderful."

Therefore, call up the 2010 BBTL blog post. Get those e-mail addresses for all sides. Please, write soon. The retirees are facing a "beat the clock" defense by baseball. A dead unvested player's family gets nothing. These players mattered. Let baseball show that they honor all service.