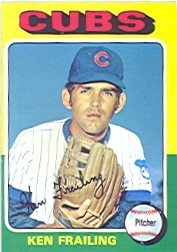 Another matching autograph!
His sig still makes every letter count!
Pitcher Ken Frailing shared a sly sense of humor with me in his thoughtful reply.
While Frailing didn't have the longest career, he spent it all in Chicago, going from the White Sox to the Cubs. I asked how it felt being part of the four-person deal to obtain legend Ron Santo on Dec. 11, 1973.
"Ron Santo was, and is, an icon in Chicago. We had met a few times. He was a great guy as well.

It was a real break for me. The Cubs needed left-handed pitching and I needed to be on another team. The Sox had great young arms, Rich Gossage and Terry Forster, for example."
The Cubs got a quick return on their investment. Frailing worked in 55 games for the 1974 Cubbies. The stat shows just part of his workload, Frailing confirmed:
"I was up in over 100 games in 1974. I was tired at the end of the season."
Frailing wasn't an exclusive reliever for his new team. On May 27, 1974 (with thanks to http://www.retrosheet.org/), the lefty compiled an unusual complete-game win against the Giants at Wrigley Field. While he wasn't the day's most mystifying moundsman, Frailing put on a show at the plate: three hits and three RBI.
"I had a nifty 14-hitter and a complete game. I threw 158 pitches in that game.

I remember getting those hits and especially against a left-handed pitcher (Mike Caldwell)."
When Frailing summed up feelings about his career, he added one amazing bonus, writing:
"Baseball was a great part of my life. I really enjoyed my time and the memories are priceless.

Example: my major league debut in old Yankee Stadium. It doesn't start any better than that.

Let me share one story from my career. 1972 — Chicago White Sox.

I am pitching to Harmon Killebrew. I got 1 ball, 2 strikes and throw a breaking ball over the heart of the plate. The umpire calls it a ball.

When the inning is over, I am walking to the dugout and the umpire meets me at the foul line and says, "Hey, rookie. Who do you think these people pay to see, you pitch, or Killebrew hit?"

I knew where I stood in the scheme of things.

Tom,

Thanks for your interest. May God bless!

Ken Frailing"
Tomorrow: Happy 57th baseball anniversary, Tom Bradley!