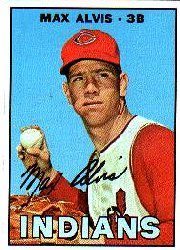 My Alvis autograph
on his letter is a
LETTER PERFECT
match to this card!
Max Alvis got in on the ground floor with Milwaukee. The new Brewers needed tested talent fast. How did he see the transaction?
"My trade to the Brewers was a surprise, but it probably should not have been. I had knee surgery in 1969 and it was untested, plus the Indians had gotten (Graig) Nettles. It should have been an opportunity for me, but I got off to a slow start and did not contribute much."
I don't think Alvis wants any sympathy, however. He concluded:
"I was a hard worker and I was always trying to improve, especially as a fielder. I enjoyed every minute that I was a major league baseball player and I have no regrets."
I just found a memorable essay of a Cleveland fan who wanted to look like Max Alvis as a boy. Be sure to check out the prize package the Plain Dealer may offer this essayist: a Bob Feller autographed baseball and more!
Tomorrow: Rubber-armed reliever Ken Frailing remembers.