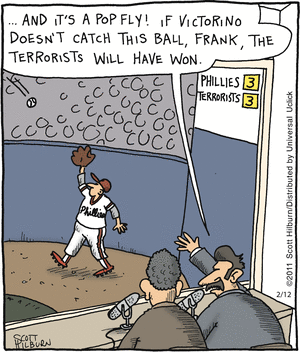 From Feb. 11, 2011. Did the Flyin' Hawaiian
ever know he was a comics all-star, too? Visit
www.theargylesweater.com to keep daily tabs
on this funny fellow fan!
Last week, I wrote about seeing Dodgers pitching coach Rick Honeycutt appear in the "funny papers."
I pondered whether cartoonists were well-connected folk who knew anyone and everyone. Would it matter saying to a major leaguer that you saw them honored in the comics?
Here's the kind reply from creator Scott Hilburn himself:
I'm not specifically a Dodgers fan – but a huge baseball fan in general.
I've never been to a Dodgers game (I live in Dallas) but only because I haven't had the opportunity yet.
I try to catch the closest ballgame when I travel and I hope to, one day, visit every stadium.
I've included a few players in my comic before. Shane Victorino immediately comes to mind.
No feedback from any of the players though."
Thanks to Scott for his time, and for funny stuff worth sharing with any real-life counterpart.