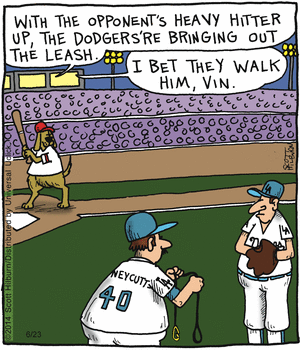 Players, past and present, are human. If you
see them mentioned in an offbeat way, share it.
Good luck finding more offbeat fun than what's
offered by "The Argyle Sweater."
Many new collectors ask the best way to write a letter to a former major leaguer.
The late Virgil Trucks told me once that fan mail writers tried to tell him things about his career. Rarely could someone surprise him with a factoid or stats.
I'm talking about SHOWING someone when you write.
How many people saw this 6/23 comic panel. It's called
Argyle Sweater
, by Scott Hilburn. Funny stuff. Rarely does a cartoonist reference a specific person.
In case you can't read the pitching coach's number, Hilburn even has Honeycutt's correct #40. Any Los Angeles Dodgers fan would love seeing broadcaster Vin Scully co-starring in the gag.
Cut out the comic (or print it out). Say you thought his family might like an extra. Send one to the coach.
Players and retirees think that collectors are all about taking. Give a little.