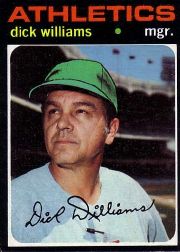 BOO! Scary airbrushing!
The facsimile autograph
looks haunted:
DILLIAMS?
Happy Halloween!
Today is about how much you get, right? Or, how much you give? As in, so many kids trick-or-treated here, there's no candy left for me!
Here's another take on giving and getting.
I'll never forget sitting on the couch with my dad, watching the Oakland-Cincinnati World Series. He fell off the couch laughing his a– off (yes, it's hard to sit without one of those!) when Johnny Bench fell for the fake intentional walk.
I wrote to Dick Williams long before he was a Hall of Famer, long before he charged for autographs. I never asked for an autograph. I just wanted him to have another perspective on the classic moment.
I related my dad's comments. I thanked him for making my dad laugh.
Dick sent back an Expos postcard of himself, thanking ME for a great story. He added a note that Rollie Fingers later told him he hadn't seen that play work since Little League!
As I watched this World Series with my wife, she saw a close-up of Tim Lincecum.
"He looks like a sad Pee-wee Herman before he pitches."
As oh-so-dramatic Joe Buck recounted upcoming Giants batters, my wife asked for a clarification.
"His name is Hunter Pence? I thought Joe Buck called him UNDERPANTS."
Future letters? Hmmm…
All I know is that humor can make a difference!