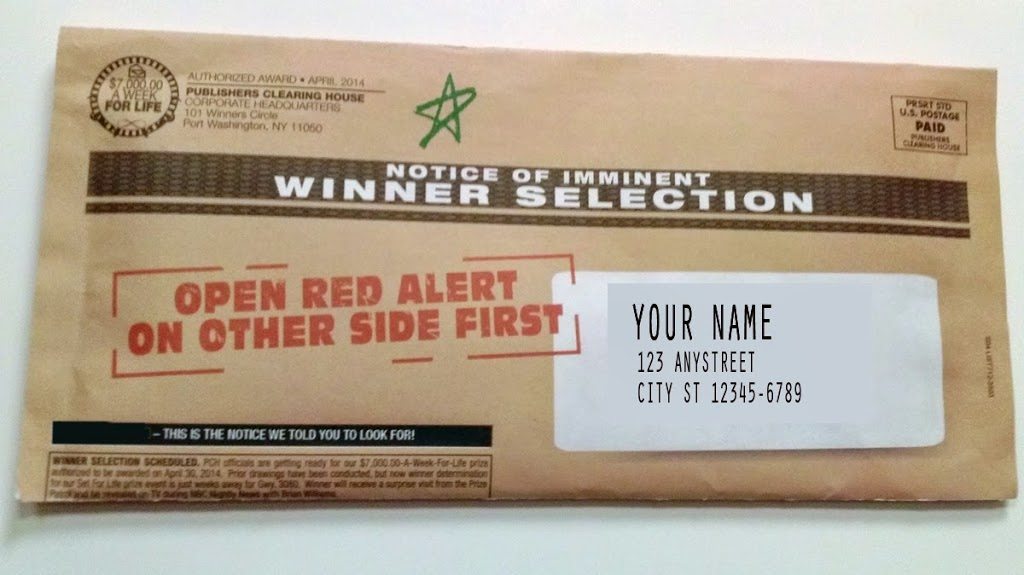 No envelopes scream, "PLEASE, OPEN ME!" like
the mailings from PCH. Learn from them.
I enjoyed a recent online conversation with a collector I encountered on the always-amazing www.sportscollectors.net.
Someone wanted to expand his success by focusing on Christian baseball players and Bible verse autographs.
I think it's great any time a collector adopts a special project or a specialty. I've seen too many hobbyists give up entirely after wanting one of EVERYTHING.
The one tip I neglected?
End, don't start, with the letter.
Make your presence known with the envelope.
Why can't a Christian collector jot a Bible verse on the back of his envelope?
Or, if you're trying to build a collection of Cardinals autographs, consider adding "Redbirds Fan" beneath your return address. For the artistically-challenged, splurge for some return address labels with pictures.
Colorful stickers. Rubber stamps. There's so many extra chances to stand out.
The window clerk at our local post office listened to my wife's question about decorating Christmas envelopes, providing that the address can be clearly seen and the appropriate postage checked and cancelled. Is it okay?
"Hey…decorate away!" he said.
Someone might help a current or former player sort the mail. Do all the envelopes look alike?
Make the effort. Let it show on the envelope. Let the athlete know how much you want a reply.