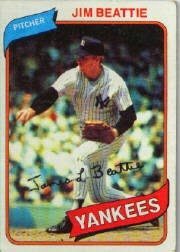 Comment of the Week award has to go to collector Dan Brunetti. His jewel?

"Sometimes for me, the hunt for the address is almost as exciting as the return."

Dan is working on assembling an autographed 1979 Topps set.

In the fall of 2013, Jim Beattie closed his Vermont P.O. Box. No one has gotten TTM successes from Beattie, or a current address since, according to www.sportscollectors.net postings.

Dan's online searching found that Beattie was scouting for the Blue Jays. Dan e-mailed the team, asking if they'd forward a letter.

Sure!

Baseball scouts travel. Writing c/o a team makes sense. One past theory asserts that som coaches and scouts may still have the idea of autographs as being a work-related job. If you support the guy's employer (team), he'll support your hobby. In other words, they feel they're getting paid during the season to be fan-friendly.

Of course, current and former baseball personnel may ignore all the mail, packing their piles of correspondence home for the winter.

For the off-season, seek a home address. Harvey Meiselman's address list remains the gold standard in our hobby.

Team front offices can seem like wastelands. If you get forwarded, it may not be fast.

Different addresses may work at different times. Be creative, and compare notes with other collectors.