"I like to taste food, not glue."
— Pitcher Mike Caldwell
Caldwell's Facebook memo to collectors has appeared on www.sportscollectors.net and throughout hobby forums. He brought up great suggestions. Caldwell has reasonable rules for TTM autographs. 
Besides, anyone who'll keep signing for free, stating out loud that collectors don't need to enclose money, should be given extra attention.
One request that caught my eye first was Caldwell's wish that collectors stop using envelopes you have to lick.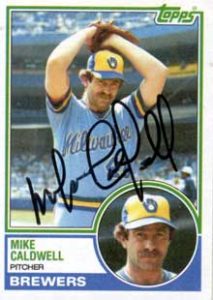 My first concern was the empty envelope. Anyone who's gotten an empty SASE knows that special disappointment. What might have been inside? 
Did someone not get the memo on how a self-sealing envelope works?
Sure, the self-seal SASE will be more expensive. But, once it is sealed, it stays sealed.
If you want to try self-seal envelopes, consider adding a sentence at the end of a letter. Something like: "I'm grateful and eager to have your autograph. In fact, I've enclosed a special envelope for your reply. Just remove the paper strip, and your signature will be safely on its way!"
Readers, please let me know what type of envelope you prefer using. Have you had problems with the other kind of envelope?