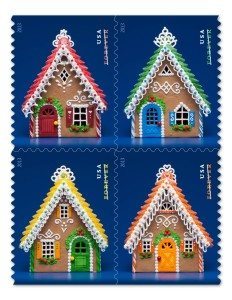 Let the holiday work for you.
Get a quantity of those holiday stamps. Any design.
It's my hunch that wives or family members open envelopes for some of the older retirees — or the iffy signers.
I maintain that getting your envelope noticed and opened is a major victory.
Get mistaken for a Christmas card. Or, remind the ex-player that this is the off-season to be jolly. Holiday stamps can help.
To evoke a little Black Friday cynicism, consider that your happy Christmas stamp in 2014 is a remind of how overdue the retiree's response is.
One topical stamp is not a huge advantage. However, I'll take all the help I can get.