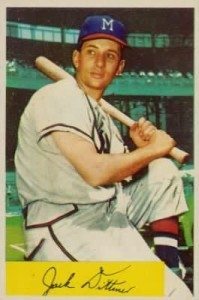 Dittmer's Pen Still Flashes
That Dazzling "D" Today!
Fellow Iowan Jack Dittmer sent me a fascinating reply to my letter.
Dittmer is an Iowa sports legend, earning nine letters in three sports at the University of Iowa. Did he ever imagine himself as a Green Bay Packer, not a Milwaukee Brave? He confessed:
"Football has always been my favorite sport but I only weighed about 160 lbs in college – not big enough."
Dittmer's rookie season came as a BOSTON Brave. He debuted with a franchise in flux. Worse still, all the
fellow Iowans, all the U of I rooters, faced a cross-county trip to see their Hawkeye. I was sure that the move to Milwaukee offered fringe benefits. He added:
"The last year for the Boston Braves team was not a good one. I was called up in June and did not do very well.

The first year in Milwaukee was great! In August of 1953, the Iowa fans planned a big "Jack Dittmer Day" in Milwaukee and hundreds came to the game and honored me and my wife with their presence and gifts."
A year later, Dittmer witnessed the arrival of a future home run king. He remembered:
"Rookie Hank Aaron did not come to Milwaukee until my second year (1954) and was sensational. He and his wife were great people, very humble, but did not socialize with many because, as I recall, she did not stay all summer in Milwaukee.

I have signed autographs with hank (after baseball) and participated in Hank Aaron fundraising golf tournaments in Milwaukee. He is a great guy."
So are you, Jack Dittmer!
See the state-wide salute Dittmer received in 2005 upon entering the Iowa Sports Hall of Fame.
Additionally, I was stunned by the collection of Dittmer-related artifacts at this aptly-named website.
Tomorrow: Two important questions I'll be asking former players I write to this season.