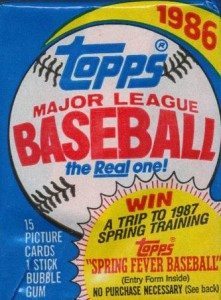 Brad Balukjian may be baseball's 2017 Rookie of the Year.
I don't think you'll see him in uniform. However, he's doing something unique that will spark the imaginations of fans and collectors alike.
I found Brad on Twitter, @Waxpackbook. He's taken a pack of 1986 Topps cards, vowing that he'll track down everyone in his pack (all while writing about the adventure). Yes, face to face collecting!
Unlike other authors who essentially say, "Don't bother me until the book is published," Brad is sharing the ride. He's in Houston, beginning his cross-country trek.
Before you snort NO WAY, let me pre-emptively say, "Yes, way." Brad has caught the eye of the New York Times with his literary plan. 
Why does this matter to TTM collectors and those who hope to get a question answered or even a note from a past baseball favorite?
Brad has needed to stand out. According to the Times, one Hall of Famer represented in his pack was the only person to resist the pitch for his project. I'm betting that Brad had to make his case in writing to win over all the former MLBers. 
That's right. Whether you want someone to co-star in your book, autograph your card or simply answer a question in your letter, you need to prove WHY. 
I'll be following Brad. I hope you will, too. I think I'll be able to clear off some space on the baseball bookshelf by 2017.