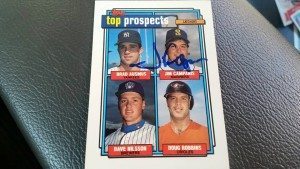 Just an autograph?
That's why I started this blog. I love the stories beyond the signatures.
Here's one from master baseball storyteller Jim Campanis, who writes:
"Another "J" on Ausmus' neck!
In 1992, Brad and I already knew each other from playing in the Carolina League during the '90 season.
When this card came out we started a little practical joke that we're still doing to this day…when I get the card to sign first, I swoop my "J" across his photo to his neck.
When he gets it first…he ends a looooong "S" across my face!
Great catcher, manager and person!"
Thanks for sharing, Jim. And collectors: watch those necks!