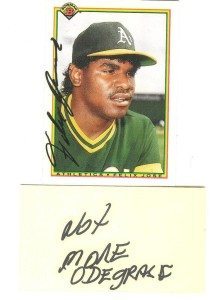 I've said it before. I'll say it again.
I love the notes!
I used to focus on autographs. Now, I look for the personal interaction between fan and player.
That's why I was delighted and amazed to see the recent discussion on www.sportscollectors.net, the MVP of autograph websites.
More than 1,200 collectors tuned in to, "Getting Caught Writing to a Player Twice." A brave collector, who we'll call "Jeff," confessed to a time of sending more than 1,000 requests per year. In a record-keeping slip-up, he wrote to Oakland's Felix Jose a second time.
The outfielder sent him a scolding in writing. I think "Jeff" has enjoyed his hobby summons more than any Jose-signed cards. F.J., by the way, included a phoenetic message that translates to: "No more autographs."
Even if the signers don't let on, they are reading our letters!
What's been the funniest autograph reply you've ever received?