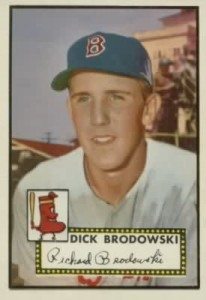 Dick's sig is the same.
I bet the smile is, too!
What did you do at age 19?
A recent reply from pitcher Dick Brodowski stunned me. Aren't all Major Leaguers older than us? Could a kid pitch against the New York Yankees…and win?
Dick took me back to June, 30, 1952 (Thanks to the aid of www.retrosheet.org.) —
"High points of that victory turned out to be Billy Goodman colliding with Sam White and Goodman being replaced by Dick Gernert. Gernert and Vern Stephens were the four-run offense that was needed to win.

My key moment was a bases-loaded situation in the seventh inning — one out — Bob Kuzava hitting and 3-1 on Bob. I felt I had to get lucky and throw two fastballs for strikes and struck him out.

Irv Noren then hit a soft fly to center and got out of that jam.

I was 19 at the time and very lucky."
Brodowski had his moments at bat, too. He homered off Ted Gray (1952) and Don Larsen (1955).
Somehow, his teammates never razzed the pitcher over either surprise blast.
"Not much of a reaction to either HR — I was thrilled — hitting two over the left field wall. Larsen had just hit one off of me!"
Another team, the U.S. Army, chose Brodowski. The career interruption derailed the pitcher's promising 1952 debut. He recalled:
"I didn't pitch much in the Army. I was a good hitter in the service and played second base. I loved it. Never realized it would take me two years to get some decent stuff back!
Brodowski closed his letter with some Major League gratitude:
"I was a decent AAA player with some spirts of getting some big leaguers out.

I loved the opportunity and did the best I could!"
Tomorrow: My apology to pitcher John D'Acquisto.