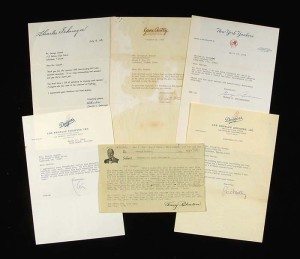 The 2015 All-Star Game proves it. The "official" auction proclaims baseball letters as true collectibles.
Once, something like a cancelled check was seen only as a substitute way of getting a real signature.
Now, the world sees letters as proof that baseball personalities are people, too. Two people connecting over a team, a moment…a chapter of baseball history.
The first two lots come from the family of Herb Carneal. A Ford Frick-winning broadcaster, Carneal announced Minnesota Twins games from 1962-2006. 
Johnny Pesky's military service, and his value to the Red Sox, are documented in a batch of signed correspondence.
The most fascinating lot surrounds minor league umpire and folk artist George Sosnak. Sosnak's painted baseball's are legendary. Here, collectors can see him big-name support for his art. A wonderful Facebook group of collectors of Sosnak art offers a great introduction to his creations.
Online pre-bidding ends tonight (Monday, July 13) at 10 p.m. EST. Check the site for prices realized.
And, realize that those baseball letters you're getting will have lasting value, too!