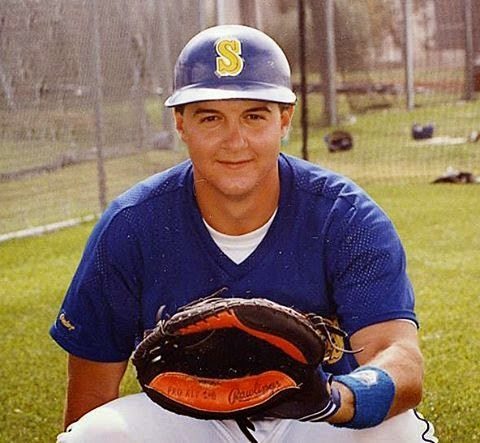 That target mitt was inspired by Jim's grandfather!

(Photo courtesy Jim Campanis)
When you get a reply in the mail of personalized autographs or even a note, know that the former player truly LOVES the game. You may never know all they went through for their baseball dreams.
When I saw that
Jim Campanis
had described the seldom-seen moments in his pro career, I knew the story was something every baseball fan needed to see. I'm grateful he'd share his memories here.
Jim is a gifted musician and author. He may not be taking bows on a baseball diamond, but he's someone who's going to have many memorable extra innings in his future creative endeavors.
Please, read and share. Jim has been sharing his whole career. It's time fans know the whole story.
by Jim Campanis
When I was drafted by the Seattle Mariners and sent to Fall Instructional League, I was introduced to the reality of minor league pay.
My dad had always told me about how little money he used to earn in the minors but I figured over 25 years later things would have improved…I was wrong.
My first day at Fall Instructional League, they called me into the clubhouse office to get paid and handed me an envelope. I signed for it and didn't ask how much nor did I count it until I got back to the hotel.
The envelope had the date range of 6 days written on it so I figured it was one week's pay…it totaled $48. When you add up the time on the field along with traveling to games, that's less than $1 an hour!
My first year in 1989 at San Bernardino, I made $700 a month for 5 months…and my portion of rent was $400 a month. The team did not pay for ANYTHING when we were in our home city. We were responsible for housing, clothes, transportation, food, utilities, entertainment…everything.
There was a huge juxtaposition between perception and reality in the minors. Thousands of fans would cheer for me when they announced my name…kids would line up for my autograph…I would give speeches to hundreds of students at school assemblies…I would have my picture on the front of the Sports Page and would give radio interviews to tens of thousands of listeners. Then when my paycheck arrived, I did the math…I was making $16.75 a day after taxes!
I had received a decent bonus when I signed, but now that money was quickly getting spent on life basics.
By the time I was married and had a son, I was making $1,200 a month for the 5 month season. We were forced to room with another couple because the bonus money was spent. I received $400 net paychecks every other week and we barely survived…we had $19 in the bank after bills were paid. My wife would be alone for 10-14 days when I was on the road eating Ramon noodles or rice to save money.
On road trips, I got $7 a day in meal money. After a while, we began to get creative. I would pack a hot plate and a big pot so we could save meal money by cooking. When we arrived at the hotel, we'd go to the grocery store and split the costs of buying pasta, sauce, salad and garlic bread. Not so glamorous, right?
One day I was in our clubhouse in Jacksonville and a letter arrived from my dad. Inside the envelope was a bunch of photos of hitters…he would write comments about their swing for me to learn from and emulate. But one time, between the photos, he slipped in a $20 bill.
So I took that $20 bill and hid it under the insole of my shoe for an emergency. A short time later my wife informed me that we were totally broke and payday wasn't for a few days. I pulled out that $20 and that kept us alive the rest of that week.
After my first year in AA, I was invited to play Winter Ball in Los Mochis Mexico for a WHOPPING $2,500 a month in CASH! That was 2 ½ times more than I received from the Mariners PLUS they paid for our hotel room the entire season. This was a God Send for us and that money helped us through part of the next season.
In 1992 I was on the Mariners 40 man roster with the highest paying contract on my minor league team…$2,400 a month for 5 months…that's $12,000 before taxes for the entire season. By the way…that was the most money I ever earned monthly playing professional baseball over the course of 8 years.
I did get paid for a few baseball cards and would occasionally be invited to sign autographs at card shows for a few bucks…that really helped back then but I wasn't a famous player so I didn't get frequent invites to the big shows.
After a very expensive Winter Ball season in Puerto Rico, we were broke again and living off of credit cards. There were no other options…there simply was not enough money to live.
But my hyper-competitive mind kept thinking…I just need to get to the show and everything will be fixed.
A rookie in 1992 was making $21,800 a MONTH! Plus they would get $110 a DAY for meal money. The big leaguers made more on meal money on the road than I did the whole month!
That off-season, my dad hooked me up selling cars in Anaheim. I had no idea what I was doing but needed money. I used to tell the customers while taking a test drive, "So here's a little secret…I'm not really a car salesman, I'm a baseball player. Also, my dad is the dealership manager, so just tell me what you want to pay per month and I'll try to make it happen." They would give me strange looks, but then one would say, "Well we want our payment lower than the last loan we had at $350 a month." So, I'd go show my dad the deal and he'd come back with $355…usually the couple would buy the car. I made more money selling cars in 4 months than playing baseball for 8 months.
Ultimately, my decision to stop playing baseball at nearly 28 years old was purely financial. I knew I could still play but I could not afford $1,000 a month job anymore. Plus, we were thousands of dollars in debt from living off the credit cards. I basically paid to play pro baseball the last couple of years.
Now, I needed to find a new gig where I could provide my wife and son with a better life…so I hung up my spikes and went back to school paid for by my original Seattle Mariners contract from 1988. Ultimately, I found advertising and made more as an intern at Kamel Kountry 108 in Phoenix than I did playing baseball for a whole season! Then in 1996 I started working full time and we began chipping away at our credit card debts.
Recently, a class action lawsuit has been filed by former minor league players citing collusion by baseball for keeping minor league salaries so low. They contend that minor league salaries are twice as low as minimum wage laws require. I doubt anything will come of this suit but it goes to show how difficult it is to survive while you are trying to chase your dream of playing in the major leagues…even TODAY!
The general public thinks all baseball players make $10 million a year…but actually only a very small percentage of players will even make $100,000 over their entire career.
If I could do it over again, I would try to stretch out my bonus longer somehow but don't know if that would have been possible. I played the pro baseball lottery over 8 years and financially speaking…paid dearly for it. All I have to show for all those years are some old baseball cards…and these stories…and of course, I'd do it all again!