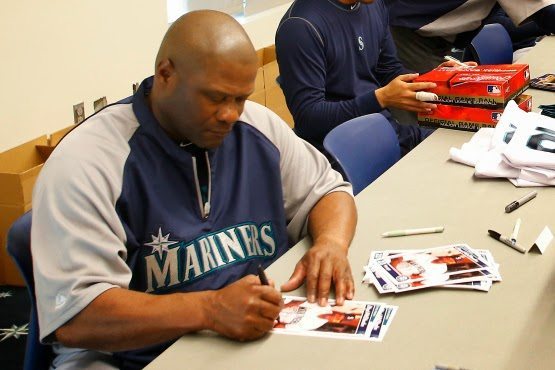 Back in spring training, the M's Community Relations
Dept. showed ML Blogs that the entire roster
was signing items that could be auctioned
by charities — even McClendon. The skipper hasn't mentioned
charities in his latest autograph change, though.
Address king Harvey Meiselman does a good job updating his customers about new addresses or signing changes.
Here's one that gave me a shock.
A Michigan-based fan mail handler has made a deal with M's manager Lloyd McClendon. The signing fee is $15 per card or baseball, $20 for bulky items.
This isn't a former player now dealing with wages of real-world jobs (like us).
He's remained employed as a manager or coach for years. I'd guess the autograph broker made the deal with McClendon after meeting the latter back as a hitting coach for Detroit.
According to the website "Baseball Reference," McClendon made more than $2 million in his seven-year playing career. Although MLB teams are trying to keep managerial salaries secret, numerous sources estimate that the low end of the 2014 pay scale for skippers is at the $500,000 mark.
There's no details from the McClendon go-between that part of the fee goes to charity.
I'd think the Seattle front office might want to have a fast talk with their field boss. As of right now, McClendon gives the impression that he's had to pick up a second job to make ends meet.