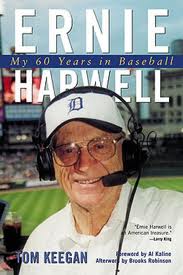 On My Bookshelf!
Bobby Hoeft knows his Tigers. And how can a true fan and historian know the team without knowing legendary broadcaster Ernie Harwell? Bobby amazed me with his response!
Q: What was your relationship with ERNIE HARWELL like?
A: "I was the Pastor of St. Paul's Lutheran Church in Farmington Hills, Michigan, in 1977, when I received a phone call from "Waddy" Spoelstra, a sports writer for a Detroit newspaper and the founder of the MLB Chapel Program. He was inviting me to lead the Tigers in their Chapel Hour on a Sunday in August…it took me one millionth of a second to say yes.
The Angels were in town so I still brag about being the only Pastor to actually preach to Angels. On top of this humor I actually met an Angel! There stood Ernie Harwell with Waddy Spoelstra outside of the office door leading into Tiger Stadium. They were waiting for me and my young son, Bobby II.
They expected me to lead Chapel with Ernie Harwell standing right along side of me! They forgot that I was still a mere human being. The only way that I made it through leading Nolan Ryan and his crew and then Ralph Houk's boys was to just let the Holy Spirit do His job! These Tigers led by Rusty Staub and Ron Leflore were impressed and so was Ernie & me….that Spirit does good work!
That Ernie Harwell is full of surprises. Once on a Sunday afternoon I was enjoying a Tiger game on TV when my wife answered the phone. She answered and then stood there like a house by the side of the road stammering: 'It's Ernie Harwell.' And sure enough it was! All at once it dawned on me. How can he be calling me right in the middle of a ball game that he's announcing? So, I asked him. His answer was simple. 'I make these call during the innings that Paul (Carey) is announcing the game.'

Then in 2003 he agreed to writing columns for the WBWF…Not only did he agree to do that he also said the following words of wisdom: 'Anybody that loves the Tigers will also love WBWF!'
And his calls kept coming until May 4, 2010. That's the day that Ernie became a real ANGEL"
Coming Monday: Bobby Hoeft shares a game plan for collectors.