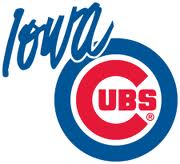 Even the day after Christmas, I'm still in a festive spirit.
Or, maybe it's the STEVE Christmas spirit.
That "No Place Like Home for the Holidays" song sold me. I'm sticking close to home, writing to the men I've encountered as an Iowa Cubs fan.
Each sparkled for at least one day in Des Moines, often while I was in attendance. Those who'll get my last letters of 2011 include:
Steve Christmas
Nate Frese
Joe Hicks
Mike Mahoney (a local hero, whose Dad was a famed high school coach)
Dan Rohn
Wade Rowdon
Bobby Scales
Dave Swartzbaugh
Chico Walker…
and team announcer Deene Ellis
Coming Tuesday: Do you know "When Baseball Was Fun"? Bobby Hoeft, possibly the greatest Detroit Tigers fan ever, still does!