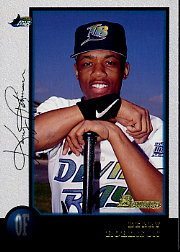 Robinson has kept
his sig sweet.
As I reflect on 2011, I think I might have found a trend. I'm suffering from a malady, a syndrome.
Let's call the problem "Collectors Who Try Too Hard."
Why do some retired players choose to respond? Perhaps, I've rekindled too many memories for them.
I've wanted to write to former Cardinals outfielder Kerry Robinson.
He worked as a scout for the organization in 2011.
Naturally, Cardinals fans would think that every former Redbird would love the question, "What are your memories of playing for future Hall of Fame manager Tony LaRussa?"
Read about Robinson in the 2005 book Three Nights in August, by Buzz Bissinger. Actually, LaRussa co-authors the book, in that he feeds Bissinger juicy tidbits about the team, providing unheard-of access to team meetings and other insider reflections.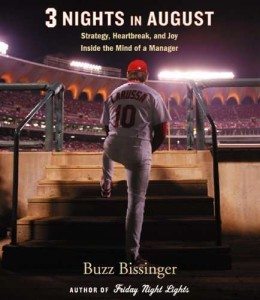 LaRussa turns Robinson into a favorite target, a catch-all for complaints. Everything Robinson does peeves the skipper.
Good hobby friend Rich Hanson told of seeing Robinson at a Cardinals Caravan winter tour stop. Fans wanted the former player to tell about playing for LaRussa.
"No comment," he told listeners.
The moral? Just because everyone else adores a manager, batterymate or superstar teammate doesn't mean that the person reading your letter will.
(Merry Christmas, everybody!)
Coming Monday: Who's on Tom's last "10 Most Wanted" list of 2011?