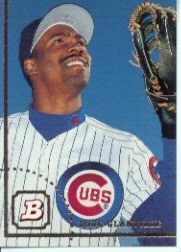 I love listening to Doug Glanville talk about baseball. His writing sparkles, too.
In 2008, he wrote an apology of sorts for all his unanswered fan letters through the years. The column, first appearing in the New York Times, can be read here from Doug's fascinating website.
For everyone who's grumbled, "He switched my card" or "He kept one," this is proof that players are human. Glanville didn't talk about getting secretarial help from his teams to keep mail sorted and answered. I like his essay, too, because you get a feel for what kind of letters mattered most to him.
In an update to Glanville's efforts to get his fan mail under control, I checked the always-helpful http://www.sportscollectors.net/. I think collectors got scared away from writing Glanville after he admitted in print that he hadn't answered every letter. Collectors had a 53 percent success rate through the mail with the center fielder. Sure enough, he's taken more than 1,000 days to answer several letters.
Twenty-eight years later, my wife and I still hear from people muttering that our thank-you notes were sent to the wrong people. We confused a couple of the gifts with the givers. To deal with hundreds of cards a year belonging to various strangers? Eeek!