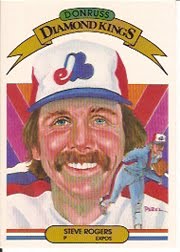 The reasons to remember former Expos pitcher Steve Rogers are many. The first-round draft choice in 1971 was the 1973 Rookie of the Year from The Sporting News. He averaged a decade of double-digit winning seasons. Besides all that, he sported one of the sport's best 'staches. As player-turned-Fox commentator Kevin Millar might say, "awesome man hair!"
These days, Rogers works at the Players Association. He's special assistant to Michael Weiner in charge of player pension issues. He could add one more victory to his history page, advocating for the 874 fellow players who deserve pensions. Steve Rogers was the alter ego of comic book superhero "Captain America." This Rogers can be a super hero again, too.
Author Doug Gladstone suggests contacting Rogers or Weiner at the address below. Other places to voice support for baseball's forgotten men follow:
Office of the Commissioner of Major League Baseball
245 Park Avenue, 31st Floor
New York, NY 10167
212-931-7800
Major League Baseball Players Association
12 East 49th Street, 24th Floor
New York, NY 10017
feedback@mlbpa.org
Major League Baseball Players Alumni Association
1631 Mesa Avenue
Copper Building, Suite D
Colorado Springs, CO 80906
postoffice@mlbpaa.com
I asked Doug about a list of all the men denied pensions. He replied:

"Strictly speaking, there is no online list to see who is getting hosed and, as you can well imagine, the union was less than forthcoming whenever I tried to make contact with them. (Frankly, they guard the names of the 30 player reps so tightly, you'd think they were guarding the secret formula of Coca Cola, which is stored in a vault in the main headquarters of Sun Trust Bank in Atlanta). Since they were less than cooperative when I was doing my research, I had to use that great online resource, http://www.baseball-almanac.com/, to figure out who was getting shafted.
A list IS maintained by the MLBPAA. I would therefore advise you to tell your readers to contact Dan Foster, the alumni group's executive director, at 719-477-1870, x112. He probably will be less than forthcoming too, however. B/T/W, his direct email is dan@mlbpaa.com."
Lastly, here's a non-autograph reason to write to players. The player union keeps the names of team representatives quiet. If you spot a player mentioned in print, such as "Cardinals player representative Kyle McClellan," make a note. These players have special powers. When the next contract between teams and the player union takes places in 2011, the pension-less 874 needs to be negotiated. All players need to know that they shouldn't forget those who came before.
Other known team reps include:
Jeff Francoeur, Mets
Troy Tulowitzki, Rockies
Hunter Pence, Astros
Mark Texeira and Curtis Granderson,Yankees
Stop by Doug's website for updates. Most of all, get A Bitter Cup of Coffee: How MLB and the Players Association Threw 874 Retirees a Curve
Share it with other fans, collectors, media — anyone who'll listen. I've yet to receive a ransom note from one of the 874 saying, "Baseball has robbed me of a pension, so I'm punishing autograph collectors by demanding $$$ per signature." These are fellow fans: good, deserving men who want to keep their love for baseball. If the crowd roars, MLB has to listen.