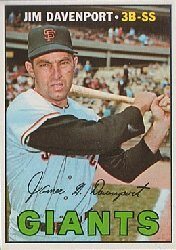 When Jim Davenport passed away at age 82 this month, I remembered his polite bafflement.
In 2010, I received a reply (of sorts) to three questions.
I wasn't alone. According to the ever-trusty SportsCollectors.net, Davenport replied to 298 of 314 documented letters. Best of all, even into this January, he was doing it with sterling penmanship.
While Davenport never seemed to be a quote machine or natural baseball storyteller, he inspired this impressive Alabama retrospective.